The instruments used in the microbiology labs include a bunch of different kinds of instruments required for a lot of different processes conducted within those laboratories.
List of Instruments used in Microbiology Lab
Analytical Balance
Autoclave
Bunsen burner
Centrifuge
Colony Counter
Deep Freezer
Homogenizer
Hot plate
Hot air oven
Incubator
Laminar Air Flow/ Laminar Hood
Magnetic Stirrer
Microscope
pH Meter
Spectrophotometer
Vortex Mixture/ Vortexer
Water Bath
Water Distiller
1. Analytical Balance
An analytical balance is a type of balance that is commonly used for the measurement of mass in the sub-milligram range.
Working Principle
These types of balances are made with a measuring pan enclosed in a transparent covering that prevents small particles or air currents from getting collected on the pan.
An electric analytical balance uses the force necessary to counteract the mass rather than measuring the mass itself.
An electromagnet is used to create a force required to achieve a balance with the mass of the substance, and the resulting force is displayed.
Uses
As they are highly precise and based on advanced technology, analytical balances are explicitly used in laboratories for the effective completion of tasks like weighing test materials and sampling amounts, formulation, density determination, purity analysis, quality control testing, and material and conformance testing.
2. Autoclave
An autoclave is a pressurized chamber used for the process of sterilization and disinfection by combining three factors: time, pressure, and steam
Working Principle
Autoclaves use steam as their sterilization agent. The basic principle of an autoclave is that all the items within the autoclave come in direct contact with the steam for a particular period irrespective of the nature of the material- whether it is liquid, plastic ware, or glassware.
The amount of time and the temperature depends on the type of material being sterilized and the increase in temperature of the cycle allows for shorter periods.
  Uses
Autoclaves are mostly used for the sterilization of medical or laboratory equipment with the capacity of sterilizing a large number of materials at once.
They are commonly used for the preparation of culture media during laboratory applications.
3. Bunsen burner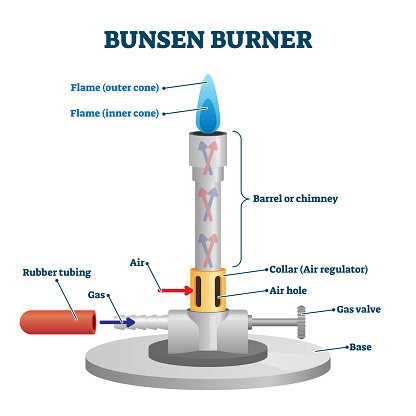 Bunsen burner is a standard tool used in laboratories, named after Robert Bunsen. It is a gas-fueled single open flame.
Working Principle
This burner is made with a metal tube on a flat base with a gas inlet at the bottom of the tube, which may have an adjustable valve. On the sides of the tube are openings that can be adjusted with a collar to control the amount of air that can enter.
Once the burner is connected to a gas source, the gas is forced by the gas pressure so that the gas reaches the top where the flame is ignited with a match or a lighter.
Uses
It is commonly used for processes like sterilization, combustion, and heating. In medical or microbiology laboratories, it is commonly used for micro-loop sterilization.